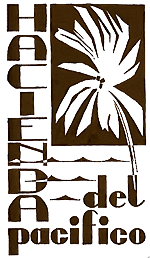 The Hacienda del Pacifico is a newly built house designed by a well known California architect.

The Hacienda is located at the south end of Tamarindo Bay and has direct beach access from our front door to the beach (See the YouTube video below). There are rock pools and excellent swimming and surfing directly in front of our beach access.

The Hacienda has been built with "old world colonial style charm". Unlike many of the modern condos and houses built more recently in the Tamarindo area, we chose traditional architecture for the Hacienda giving a flavor of the real "Hacienda style" indoor outdoor living.

The main focus of the house is the large "walk gallery" connecting all the areas together around a central terrace area with swimming pool, patio and garden. The pool is more a free form lagoon with waterfall, which makes the garden look very tropical. All during the day, this area is frequented by a large variety of birds. Our kitchen is fully equipped and open to the patio and dining area, allowing guests to come and go as they please.

The house has 3 bedrooms, all with their own bathroom. The fourth bedroom is a separate "casita" with a livingroom area, full bathroom and outside shower area. If you have never experienced an outside shower, it is a treat to be enjoyed!

We have a surfboard room and shower area so surfers and children with sandy feet can enter by a side gate and wash before entering the house area.

There is parking for two cars - one in front of the house and another behind a locked gate. All bedrooms have a small safe for valuables.

Walk to town on the beach is 10 minutes. The finest hotel in Tamarindo, Capitan Suizo, is our neighbor. They serve delicious food and have music and barbeque evenings on the beach twice a week. Morning breakfast with howler monkeys in the trees is something they are famous for. Many of these howlers can be heard in the early morning from the Hacienda. Of course, making a fresh cup of coffee early in the morning in the Hacienda and then watching the sunrise on the beach is a great way to start a Costa Rican day.

What is unique is our location - which has become the best residential area of Tamarindo as we are off the main area of beach traffic and noise. We have access to everything you need with or without a car.

Please also visit our pages on VRBO, airbnb and Facebook for customer reviews and reservations.

For Reservations:

In Costa Rica:
LEXIE HUTTON: Telephone/ Fax: 011-(506) 8 827-4195
e-mail: lexiehutton2@mac.com


Hacienda del Pacifico was designed & built by Flor del Pacifico Construction.